By Johnbosco Agbakwuru, Abuja THE Senator representing Katsina South Senatorial District, Abu Ibrahim has said that there is no provision for the suspension of serving senators in the laws guiding the operation of the upper legislative chamber.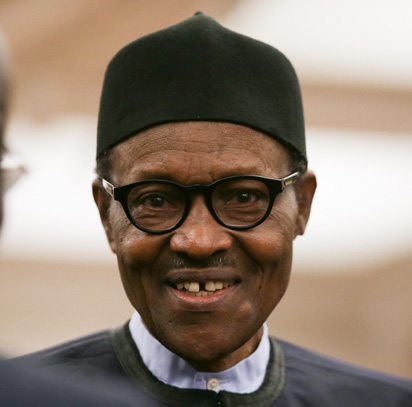 Nigeria's President Muhammadu Buhari Speaking to State House correspondents after the weekly juma'at service at the State House Mosque, Abuja, Senator Ibrahim also said that the Buhari Support Group would open its state chapter offices in Edo, Akwa Ibom and Cross River states on Monday and launch its buses for campaigns to kick-start the re-election process.
On the banning of the group in the senate, Senator Ibrahim said, "We are not banned, but we sat and agreed that an association must have a limit." He also said that the recent crisis in the senate that led to the invasion of the senate plenary by suspected thugs and the stealing of the mace, a symbol of authority of the parliament, appeared to be a blessing in disguise as it has now afforded members the opportunity to review the security situation of the entire National Assembly as well as the reason for the embarrassing action.
Fielding question on the ugly incident in the senate, Senator Ibrahim said, "I would like to take this opportunity to assure Nigerians that the National Assembly is still one and stabilized. Obviously, what has happened calls for concern to every Nigerian.
But at the same time, we have to accept that in Nigeria and all over the world, politics sometimes can create a situation of this nature. "This has actually given us two opportunities, one, to look at the security of the National Assembly itself. In fact, the Nigerian National Assembly is the most unsecured I have seen in my life in everywhere I have gone around the world.
Every National Assembly has good security, you cannot just go in, you cannot just access officers but the case is different here. "If you go to our offices in the National Assembly here, like in my office yesterday, there were over sixty people waiting who I did not have appointment with. So, this has influenced us to sit down and critically examined the security at the National Assembly itself. "Secondly, we sat in an executive session as senators and asked ourselves pertinent questions of what happened and why.